Imagine it's 2032. "Maine seafood" conjures up mouth-watering thoughts of lobster, oysters, and kelp. Waterways are cleaner, working waterfronts bustle with a diverse array of thriving businesses, and communities reap the benefits. You'll find this vision for the future of Maine's coast—one of social, ecological, and financial sustainability—in the Maine Aquaculture Hub's 2022-2032 Roadmap.
In the summer of 2020, as many seafood businesses pivoted to sell directly to consumers in an effort to address challenges related to COVID-19, six organizations collaborated to review Maine's progress on the state's 2010 Aquaculture Development Plan and chart a course for the future. Maine Sea Grant, the Maine Aquaculture Association, Maine Aquaculture Innovation Center, Coastal Enterprises, Inc. (CEI), the Aquaculture Research Institute, and the University of Maine's School of Marine Sciences and Cooperative Extension formed the Maine Aquaculture Hub (MAH), convening a series of focus groups with 141 individuals from 93 organizations and companies across the state. Participants identified supply chain resilience and diversity as priority needs and focused on five key areas for solutions: governance, financing, education and outreach, marketing and messaging, and collaboration between researchers and aquaculturists. MAH's Roadmap Steering Committee then recommended four goals for the state's next 10 years of aquaculture: streamline licensing and permitting, increase understanding and involvement in coastal communities, promote it in the Maine seafood brand, and lead in triple-bottom-line sustainability.
Aquaculture in Maine
Maine's aquaculture history dates back to at least the 1800's with the Craig Brook Fish Hatchery opening on Alamoosook Lake in 1871. The state issued the first aquaculture lease permit a little over a hundred years later.1 The sector has grown steadily in the past decade, nearly doubling its 2014 yield of $137 million and employing more than 1,000 people.2 According to the Maine Aquaculture Association, more than 700 farmers cultivate and harvest shellfish, sea vegetables, or finfish on almost 200 sites in Maine. This includes oysters, mussels, scallops, clams, sugar and skinny kelp, and land and water-based fish farming that includes Atlantic salmon, American eels, California yellowtail, trout, tilapia, and ornamentals. The aquaculture sector also relies on distributors, retailers, researchers, and equipment manufacturers. Yet despite this activity, according to the Maine Aquaculture Hub, the U.S. imports more than 80% of its seafood and half of that is farmed fish and shellfish.
RECOMMENDATIONS FROM THE roadmap
The Roadmap outlines a series of tangible and attainable steps to help meet the rising demand for seafood, particularly seafood that is high in quality and sustainably grown. This action plan would involve more people and places in aquaculture. Recommendations for Maine's Department of Marine Resources (DMR), the government agency that regulates our coastal waters, would ease the process for lease applicants and help municipal leaders make informed decisions on permits. DMR will add a webpage with peer-reviewed research, create guides to help applicants engage with community members, and host education days for municipal leaders. They'll also encourage more established farmers to mentor newer farmers.
According to the Roadmap, communication and training are key to integrating aquaculture into coastal communities. The Maine Aquaculture Hub recommends pub talks and seminars at coffee bars and parks, a good neighbors' guide, K-12 curriculum, scholarship funds for post-secondary training, effective communication trainings for researchers, and a research community newsletter. New entrants and existing operations also need financial assistance, and the Roadmap mentions outreach and education for investors and banks, startup loans, and opening up the state's small business incentives to aquaculture.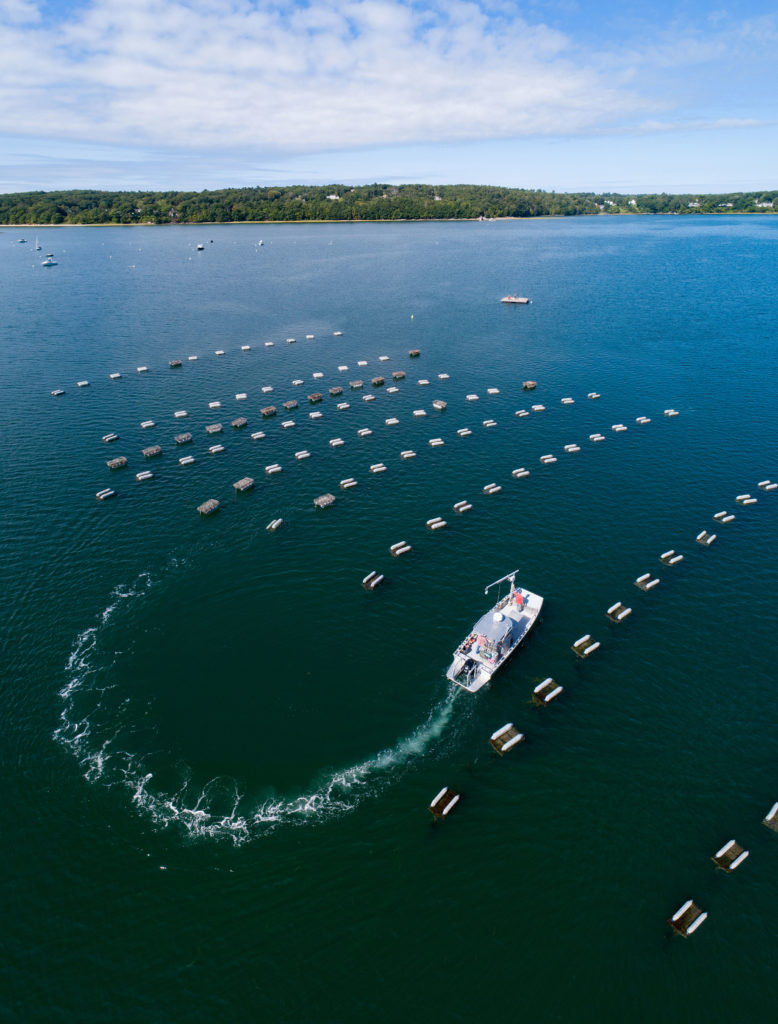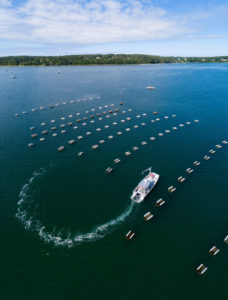 Some of the Roadmap's strategies aim to increase demand for aquaculture products. In the coming years, you could see Maine Oyster Trail ads at rest stops and airports as well as media stories that tout aquaculture and agriculture in local food systems. MAH recommends establishing a long-term fund, the Maine Seafood Marketing Council, to hire professional marketing services and research new opportunities for seaweed products and investments in seafood processing.
The benefits of aquaculture also extend to ecosystem health. Bivalve shellfish help clean the water, seaweed balances ocean acidity by capturing carbon and nitrogen, and farmers utilize less space and less feed than beef production. The Roadmap recommends guidelines that aquaculture farmers can use to monitor climate change and partner with municipalities in protecting coastal ecosystems.
Despite the many benefits, communities often have many questions surrounding its growth: Where will these new aquaculture sites go? Who will own them, and who will work there? How do we ensure that these are well-paying jobs, that we have a robust workforce, and that people from underrepresented and overlooked groups engage in these opportunities? What are the ecological impacts, both beneficial and detrimental, of these operations? How do community members raise their concerns and desires for what happens along their coasts? Siting, employment, operations, and community relations are all fundamentals of a triple bottom line focused business. Taking into account all of these questions and realizing that it requires us to examine and navigate the challenges and complexities of our relationship to our ocean, aquaculture that is socially, environmentally, and economically responsible is an excellent goal to aim for.
Our FOCUS at the Island Institute
Our work at the Island Institute centers on three fundamentals—people, community, and ocean.
By leading with people and community, we work to facilitate conversations and regularly connect with residents of Maine's island and coastal communities on the issues that matter most to them. We start these conversations with our members and donors, our staff, and our partners (fishermen, nonprofits, government, etc.) through one-on-one meetings or larger group convenings, and we regularly connect with island residents through meetings of the Maine Islands Coalition. With respect to aquaculture and our blue economy, recent conversations have included those around finfish farming in Frenchman Bay and Jonesport, and earlier this month, we offered the opportunity for local youth to learn from community leaders and changemakers like Sara Rademaker of American Unagi and Alicia Gaiero of Nauti Sisters Sea Farm through our Young Leaders Series. We're also reconnecting with lobstermen and women, island residents, and others who participated in our Aquaculture Business Development cohorts to share news and continue to support them in their ventures.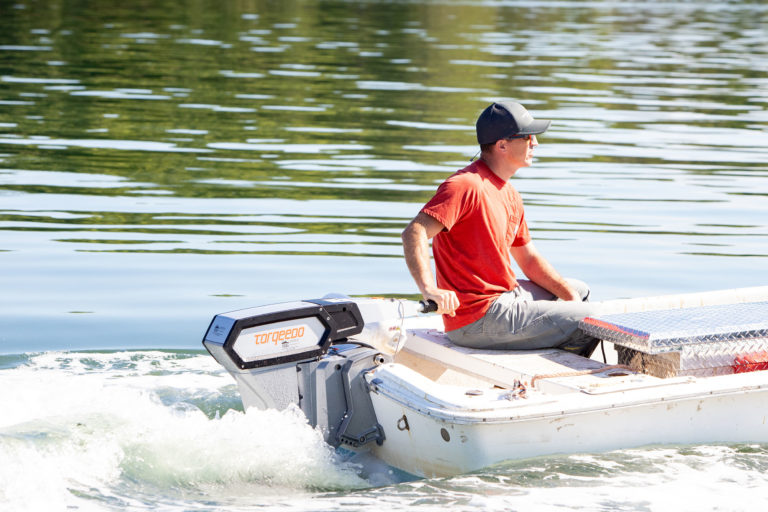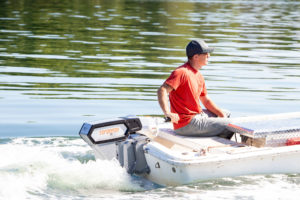 By focusing on and investing in solutions that build climate and economic resilience for our coast, we are helping coastal communities navigate some of the key challenges they face now and ensuring they have the ability to weather changes ahead. Our Spark! grants support small, independent Maine aquaculturists address climate change with cost-effective energy efficient upgrades such as a solar powered kelp drying system and solar panels on working waterfront buildings. We're also developing a pilot program for electric boats through which aquaculturists and other water users will be able to put electric motors and boats through the rigors of weather, hauling, and stowing—a typical day on the water. We're also working on energy efficient and carbon neutral cold storage and transport options for our aquaculture and seafood partners.
As the Roadmap mentions, leading in triple-bottom-line aquaculture also depends on workforce training with a focus on diversity, equity, and inclusion. We're partnering with Luke's Lobster to attract and retain those who are underrepresented in lobstering—such as women, black, indigenous, other people of color, LGBTQ+, and people with disabilities—and look to apply this model to ownership and management in aquaculture as well.
Thriving working waterfronts are essential, and the Roadmap recommends that municipalities and towns to incorporate working waterfront and seafood uses into their comprehensive plans. It also recommends the State allocate $500,000 a year to protect working waterfronts and work with fishing co-ops to save them. We're helping aquaculturists access these funds and more with our focus on preserving working waterfronts, business resilience, and targeted investments through the Tom Glenn Community Impact Fund.
A team of support
The Island Institute is dedicated to ensuring that people, businesses, and communities have the tools and resources to innovate and adapt, so that they can navigate economic change, address climate-related challenges, and increase their resilience. This work wouldn't be possible without a talented staff that brings a wide range of experience, skills, and passion to everything we do. We've recently expanded our staff to deepen our expertise in business and community development even more. Jeff Frank, recently joined the Island Institute as the strategic lead for our Business Resilience team, and brings a background in business development, renewable energy, policy, and community development. Another addition to this team is Alex Zipparo, who brings years of experience in agriculture, food systems, and co-ops. Social capital and entrepreneurship strategist Alex Kravitz leads our Tom Glenn Community Impact Fund, focusing on grants, loans, and equity investments to diversify our coastal economy.
Our Blue Economy team includes two staff members with deep knowledge of aquaculture. Susie Arnold, our marine scientist, conducted field work with scallop harvesters for her doctoral degree including diving in cold Maine waters with them. Among her many responsibilities with the Island Institute, she researches edible seaweed farming and works with fishermen to integrate aquaculture into their businesses. Our newest staff member, Molly Miller, authored her doctoral dissertation on the social and ecological factors influencing the sector's development in Maine, and will focus on working waterfronts.
The Maine Aquaculture Roadmap offers great potential for a thriving sector with strong social, environmental, and financial benefits to our island and coastal communities. Here at the Island Institute, we're excited to get to work building an inclusive and participatory action plan and are ready to partner with our island and coastal communities—and all of our members and partners—in these efforts!
---
1 Darling Marine Center Recent Timeline of Aquaculture in Maine
2 Maine Aquaculture Hub; Maine Aquaculture Roadmap, 2022-2032