The Island Institute has long recognized the power of statewide networks to support community development work in Maine's small, rural, and resource constrained communities. In support of of our work helping coastal communities through the community-driven broadband process and ultimately to help make sure public funds can support these efforts, we help lead the Maine Broadband Coalition. Building the capacity to for regional partners to dive into broadband projects and move them forward helps our whole state. We are excited to partner with the Coalition and Greater Portland Council of Governments on the work outlined below and covered in this Bangor Daily News article about broadband in Pisquatis County.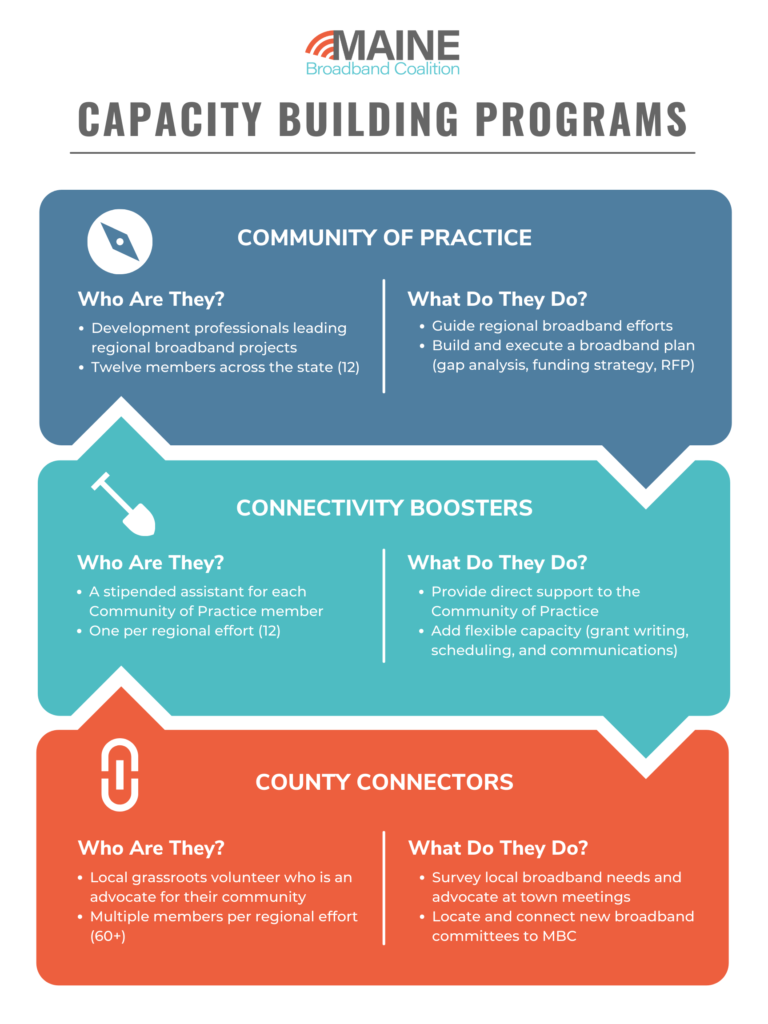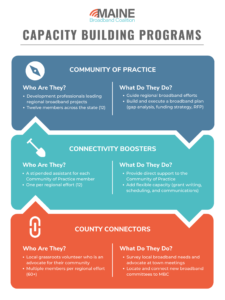 The Maine Broadband Coalition (MBC) is thrilled to introduce its new capacity building programs: Community of Practice, Connectivity Boosters, and County Connectors. Made possible by funding from the Connect Maine Authority, Maine Community Foundation, AARP Maine, Sewall Foundation, and the Onion Foundation, and with staff capacity from Island Institute and GPCOG, these initiatives provide a framework for community-led broadband development.
Each region of Maine presents unique broadband challenges, so we designed programs with the flexibility and capacity to adapt to the needs of any community.
Here's how it looks on the ground:
In Lincoln County, Mary Ellen Barnes is MBC's Community of Practice member. Working as the Executive Director at the Lincoln County Regional Planning Commission (LCRPC), Mary Ellen is coordinating towns in Lincoln around a 5-year development plan with broadband as a priority. Finalizing her plan involves supporting community engagement, assessing costs and ownership models, and identifying funding strategies.
Evan Goodkowsky, as MBC's Connectivity Booster, is a Lincoln County resident who is able to build on relationships he formed with local broadband committees during a 2021 internship through the Muskie School of Public Service. Provided with a stipend for his work, Evan has the capacity to support Mary Ellen by organizing regional dialogues and helping guide towns toward broadband solutions. As the plan progresses, Evan's role might expand to encompass management of local resources like an LCRPC webpage on broadband or a Facebook hub for the effort.
Meanwhile, Mary Ellen is able to coordinate with multiple Lincoln County Connectors who continue the grassroots broadband advocacy and education for county residents. These connectors include Shawn Lewin from Southport Island and Chris Leighton from Bristol, who are paving the way for successful adoption and use of the broadband service once it arrives. One of their strategies is to assess current digital inclusion resources in the county and support local libraries to offer public IT support and serve as digital education hubs.
MBC is the common thread linking these avenues of engagement. The statewide coalition ensures that these initiatives have the tools they need to succeed by providing funding, networks of broadband expertise, and support resources like a statewide forum and our digital materials library.
---
Project Descriptions
---
Community of Practice
Who: The Community of Practice is a group of twelve (12) regional practitioners across the state who are supporting and advancing multi-community/multi-sector broadband initiatives. The 12 practitioners were selected due to their existing efforts in broadband projects and their ability to share lessons, insights, and expertise.
Goal: The goal of the Community of Practice cohort is to help support existing practitioners pursuing regional scale broadband projects. The goals developed by the Community of Practice are as follows: (1) Achieve digital equity in Maine; (2) Be a model for multi-community collaboration, crossing municipal and county lines; (3) Understand various public funding sources available and prepare 32 projects to receive the funding needed to achieve their broadband goals; and (4) Aggregate and share tools and resources for successful broadband planning, both within the Community of Practice and externally.
On the Ground:
Charlie Woodworth, the regional broadband leader in Franklin County, created a broadband plan with ConnectMaine for the county and spent time engaging with every town to help them understand the benefits.
Paul Towle, practitioner in Aroostook County is working on a project to provide a playbook to each town in the county as a guide on how to go after grant funding and how to work on broadband in their own town and with surrounding towns.
Elaine Abbott in Washington County recently ran a Broadband Bootcamp for community leaders modeled after a similar program organized by fellow practitioner Mia Purcell from the Oxford County region.
Connectivity Boosters
Who: Connectivity Boosters are stipended volunteers invited by each Community of Practice member to assist with their broadband efforts. There will be a total of 15 Connectivity Boosters (one for each Community of Practice member, with additional capacity for each tribal community working with Four Directions Development Corporation).
Goal: The Connectivity Booster will serve as added capacity to their respective Community Practice member by providing flexible support to help move their broadband project forward. The goal is to get these broadband projects to a point where they are ready to apply for state funding by: providing technical assistance, encouraging collaboration between communities, supporting public-private partnerships, and helping to organize fundraising efforts.
On the Ground:
Support broadband committees in making progress by setting meeting dates, providing Zoom links, agendas, notes, report-outs, etc
Assist towns in filing grant applications, tracking rules and expectations
Support a county organization's efforts to disseminate broadband information/updates to existing and developing contact list in a twice monthly e-newsletter
Personal outreach to all communities, via email or telephone, in a region to determine the active state of community broadband conversations and update the Task Force priorities and processes
County Connectors
Who: County Connectors are a team of over 60 volunteers in every county of Maine. Members come from a variety of backgrounds, some with expertise in telecommunications, some who have years of experience in development advocacy, and others who just want to make a positive impact on their community.
Goal: Our team answers the human question of broadband. Anyone who fully understands Maine's connectivity challenges realizes that the solution demands local engagement. Each town is nuanced in its local sentiment, geography, and existing infrastructure. We can only provide state-wide solutions if towns and counties can communicate these needs and coordinate their goals. County Connectors are a diverse team of volunteers doing just that.
On the Ground:
Testify at town/county meetings on broadband
Locate broadband committees around the state
Organize digital equity programs at local hubs like schools, libraries, and health centers
Recent Highlights/News:
---
For questions about the Community of Practice and Connectivity Booster programs, please contact Christa Thorpe or Clara McCool.
For questions about the County Connector Program, please contact Sam Naumann.
---
About the authors: Clara McCool is a Regional Broadband Associate with the Greater Portland Council of Governments; Sam Naumann is a Development Coordinator and policy Researcher for AARP Maine; Christa Thorpe is a Community Development Officer at the Island Institute.