Throughout the pandemic, students and teachers have been disciplined and resilient. Whether they attended classes virtually or in-person with masks and physical-distancing, students adapted to new safety protocols, foregoing many of their favorite extra-curricular experiences throughout the year. Each year since 2013, the Island Institute has been fortunate to offer Geiger Scholarships to island students. These scholarships support students in pursuing off-island enrichment experiences, whether they are attending a summer basketball camp or a semester abroad. When we opened Geiger Scholarship applications last winter, we required that scholarship applicants explain the program-wide and their own individual COVID-19 safety precautions. As we began to receive applications, we realized that students were being ambitious and creative in finding options to enhance their experiences this school year, applying for scholarships to offset the cost of these special experiences. 
Vinalhaven resident and Bates College student Gilleyanne Davis-Oakes went to Tanzania for a semester abroad with School for International Training (SIT). Two Islesboro high school students spent their spring semester aboard the Harvey Gamage with Sailing Ships Maine, doing the required quarantines and testing protocols to make these experiences a reality. We've started to hear from Geiger Scholarship recipients as they return from their semesters. Davis-Oakes shares "Studying abroad was by far the best semester if not the best months of my life."
Islesboro sophomore Dylan Frank was one recipient who earned both a Geiger Scholarship and a Compass Workforce Grant to spend the semester on the Harvey Gamage. He aspires to have a career on the water and anticipated learning many skills that "go beyond working on a lobster boat and would provide learning incredible skills such as navigation, charting, GPS mapping, emergency medicine, first aid, marine biology, etc."
Dylan shared a reflection essay from the end of his semester. Read on to learn more about his incredible experience and what he learned along the way. You can also learn more on the Sailing Ships Maine Spring 2021 blog Dispatches from the Sea.
MY SEMESTER AT SEA EXPERIENCE
By Dylan Frank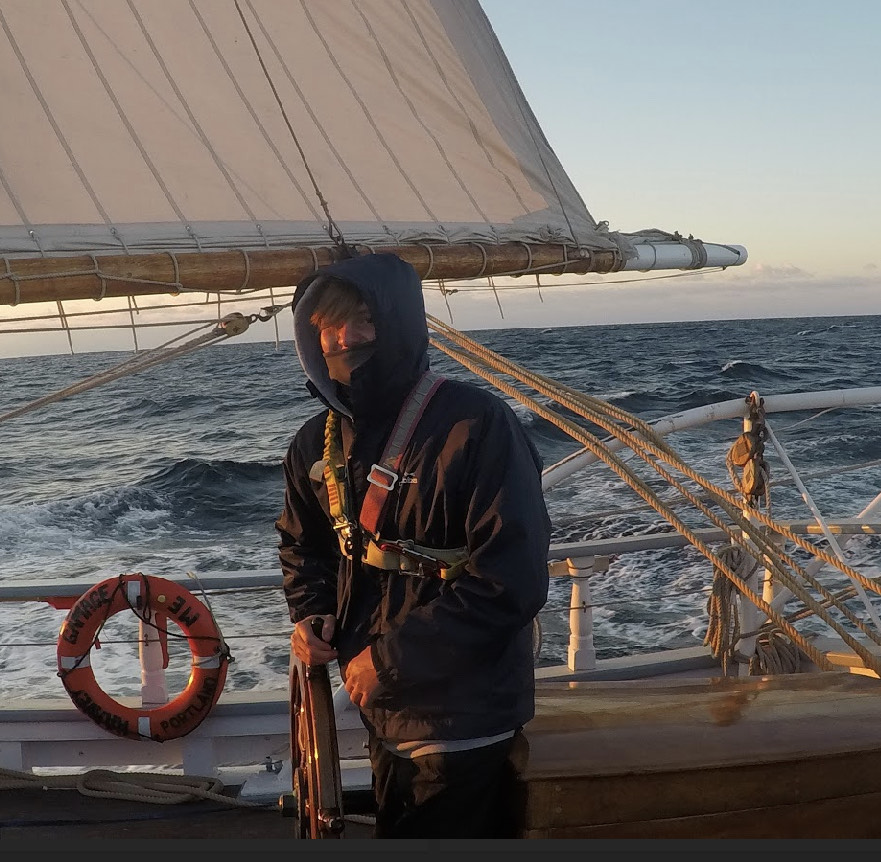 I've been living on a tall ship for the past three months sailing up and down the east coast. This all started when I first found out about the sea semester program back in January. Before this trip, I didn't really do much. I live on a small island in Maine, called Islesboro. I worked on the weekends mowing lawns and cutting trees and then on the weekdays I would be in school. My experience on Harvey Gamage has taught me a bunch of skills with the most important one being how to be a better person.
My experience on Harvey Gamage has taught me a bunch of skills with the most important one being how to be a better person.
Living on a tall ship for the past three months has taught me a lot about trust. When you live on a boat for a long period of time with the same people you learn that trust goes a long way. You have to be able to trust your shipmates not only because if they mess up while hauling on a line it could kill you, but because this lifestyle would not work without having trust in your shipmates. You also have to have trust in everyone because if they say they're going to do something like stand your watch for you, you have to be able to trust that they will show up. One time when Quinn wasn't feeling well for our watch, Ms. Young stood him down and Brooke went out into the head rig with me and Greta to furl the outer jib. When we got back on deck Brooke told us that if we ever needed her during our watch just to come and wake her up. We could trust that Brooke would be there for us when we needed her. Trust on the boat is very important because it has to happen quickly, over a short period of time, but it can't be forced. It has to happen naturally and in our case it did.
My experience on the Gamage has also taught me how to respect others. When you live in a small space with 20 other people you have to respect everyone. Community living is key. Keep your space clean, and just so you know "your space" is literally just your bunk. It's 2ft wide and 6ft long, with only curtains to close you off from everyone's bunk. Not only do you need to respect people's personal space, but you need to be able to work through arguments and conflicts. You have to fix problems when they occur so that they don't get worse, remember you live right on top of each other — literally. On a tall ship like Gamage, it's important to have respect for everyone.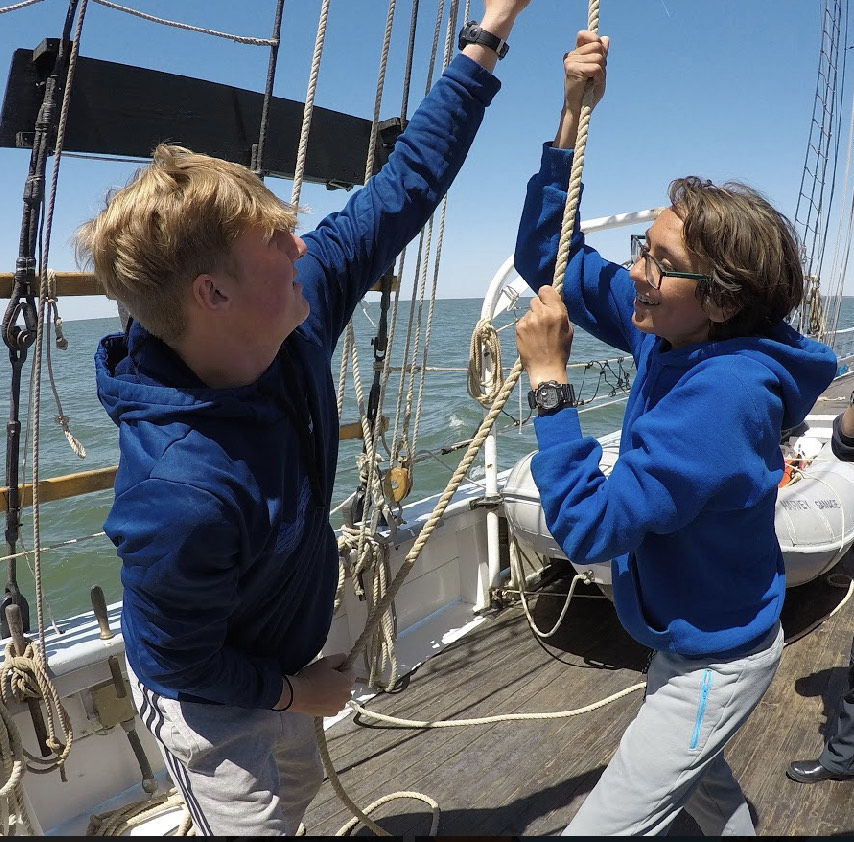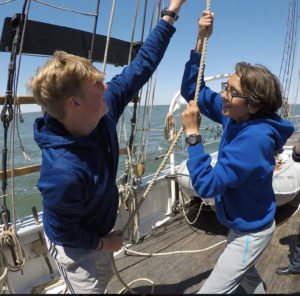 Sail handling, I love it!  It's the most fun when we're all hands, and you can hear the captain from back aft yell "hands to set the mainsail." We all go running to the halyards and start hauling away. It's also fun when a bunch of us get on one line, we call it a meat line, and we all work together to get the job done.
Being on the ship has also taught me a lot about work ethic. You have to be able to work through when you're tired. You might have the 0000-0400 (midnight to 4 a.m. watch) and you will be super tired, but you can't fall asleep in the navigation shack when you're dropping the plot from the GPS. You also have to learn how to be comfortable when you're uncomfortable. You might be cold and wet, it could be pouring rain, and blowing 10-20 knots, but you just have to power through it and get your job done. There's no backing down. There are also going to be some people that you're not going to get along with, but you just have to deal with it and not let it get to you. There's also no such thing as a plan on this boat, so you just have to learn how to go with the flow and be flexible. It's hard to do at first, but you get used to it as you go. You will also have to do things that you don't want to do, such as clean the heads every day, or get on your hands and knees and scrub the sole in the galley. You just have to do it and get it done. Work ethic is key on a tall ship like this.
Learning all these skills and life lessons will really help me later on in life when going to apply for a job, or to college because this is a unique experience that not many others have had, and I have worked through some of the most challenging experiences of my life.