Now that Maine's Climate Action Plan, Maine Won't Wait, has been finalized and shared widely, what's our role at the Island Institute in supporting our state's ambitious goals?
Since our last update, we've continued to work alongside Maine's island and coastal communities to build climate resilience. Below, we highlight several examples of where we're collaborating with communities and partner organizations. We believe that this collaborative approach is crucial for effective and more durable climate action, as it creates a better understanding of the challenges at hand and brings more resources to the table so that we can go farther, faster. 
Clean Energy Action
To support Maine's climate goals of reducing carbon pollution, we focus on: (1) supporting the marine economy to reduce reliance on fossil fuels, and (2) working with island and coastal communities to increase their energy resilience. We'll contribute to the Climate Action Plan's strategies to transition to electric vehicles and more efficient heating & cooling systems; weatherize our buildings; increase our clean energy supply; and raise awareness of climate impacts and opportunities.
Two exciting partnerships highlight our efforts: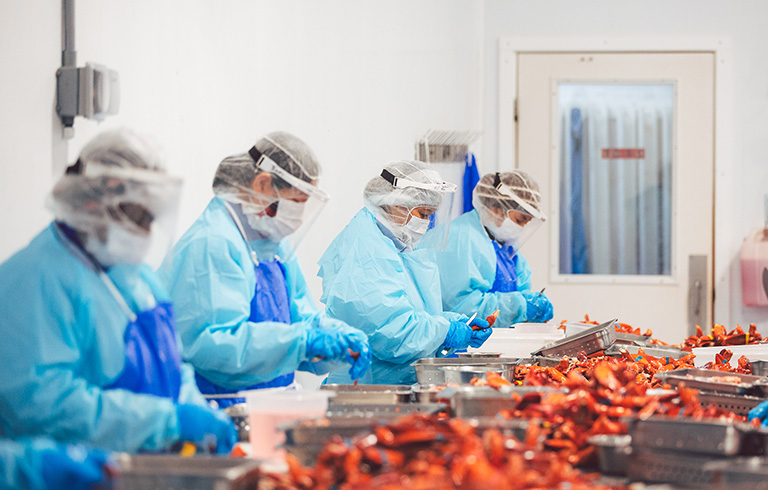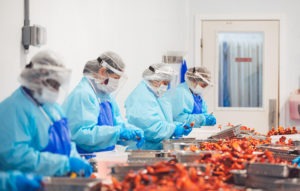 Luke's Lobster
With Luke's Lobster, a Maine-based seafood company and B Corp, we are identifying the largest sources of carbon pollution along the lobster supply chain, as well as opportunities for reducing emissions across the whole sector. In April 2021, we selected Council Fire, also a B Corp and with deep experience with Maine fisheries, to conduct a robust carbon footprint of Luke's key lobster and crab products. This study will involve collecting and analyzing energy data from Luke's facilities, the transportation of goods, and the fuel and bait usage by fishermen. We expect to share results in late 2021, with the aim of making it easier for other seafood suppliers, processors, distributors, restaurants, and customers to see the biggest opportunities for reducing emissions.
In the meantime, we aren't waiting to take action we know to be effective at lowering carbon pollution and costs. By connecting Luke's Lobster and Efficiency Maine staff, Luke's processing facility will participate in an Efficiency Maine pilot project to swap out its chillers for a phase-change refrigeration unit to significantly reduce peak energy use. We've also supported several other forward-thinking marine businesses with Spark grants for clean energy projects, including the purchase of electric outboard motors at The Boat Yard in Yarmouth and solar fans at the Frenchboro Kelp Company for use in their drying greenhouse. Demonstrating in the real world that electric vessels and vehicles, installing solar, or switching to heat pumps makes business sense is a crucial part of meeting our climate goals.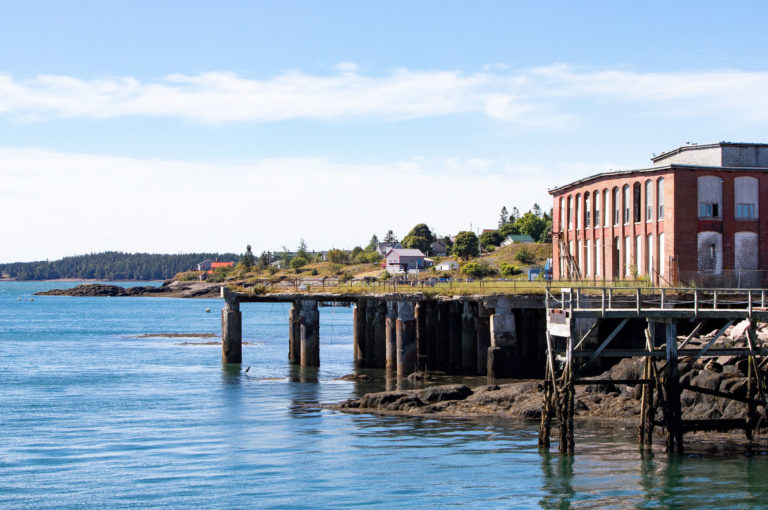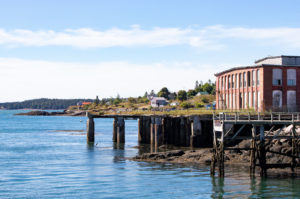 Energy Transitions Initiative Partnership Project
Through a new program from the U.S. Department of Energy, the Island Institute is one of five community-based partners for the Energy Transitions Initiative Partnership Project (ETIPP). Eastport and Islesboro were selected in the first cohort to receive technical assistance, alongside nine other island and remote communities across the U.S. and territories. These locally-driven projects include planning a microgrid in Eastport for backup electricity that can integrate tidal power produced by Maine-based Ocean Renewable Power Company, as well as articulating a path for integrating several sustainable energy efforts on Islesboro. We are currently working with the two Northeast communities and the national labs to scope these projects, which will take place through 2022. We are also coordinating with other interested communities in Maine to help them prepare to apply for the next round of this program.
Recognizing that limited time and expertise can be a significant barrier to clean energy action at the local level, we are supporting the City of Eastport with an Island Institute Island Fellow starting in September 2021. The fellow will support the ETIPP process, as well as adjacent energy efficiency projects with local residents in collaboration with the Maine Council on Aging. This summer, we are building off of this experience and our 20+ years of hosting fellows to work on climate issues and other local priorities on the coast of Maine. This work will include the shaping of emerging efforts to launch a Maine Coastal Climate Corps through the Maine Commission for Community Service.
Sea Level Rise Resiliency
Island Institute staff continue to raise awareness about sea level rise. With the help of state agency and community partners, we released a short documentary, A Climate of Change: Sea Level Rise, featuring the town of Vinalhaven's response to sea level rise on the island and their challenges and leadership around planning for change.
Piloting regional, holistic approaches to climate adaptation is endorsed by the Climate Action Plan. In June 2021, we participated in two regional workshops—one with the Blue Hill peninsula led by community leaders and one with western Penobscot Bay communities organized by the University of Maine's Collaborating Towards Climate Solutions group. In collaboration with the Gulf of Maine Research Institute, we will expand on these regional initiatives with a community-piloted curriculum to build knowledge, skills, and relationships essential for climate resilience.
Along with numerous partner organizations, we are advocating for policy and legislative changes that will ensure that coastal communities have the tools and resources they need to plan for rising seas. The Maine Climate Council recommends that the state commits to managing for 1.5 feet of sea level rise by 2050, and 4 feet by 2100. They also recommend that the state consider preparing to manage for 3 feet of sea level rise by 2050, and 9 feet of sea level rise by the year 2100.
Researching Coastal Carbon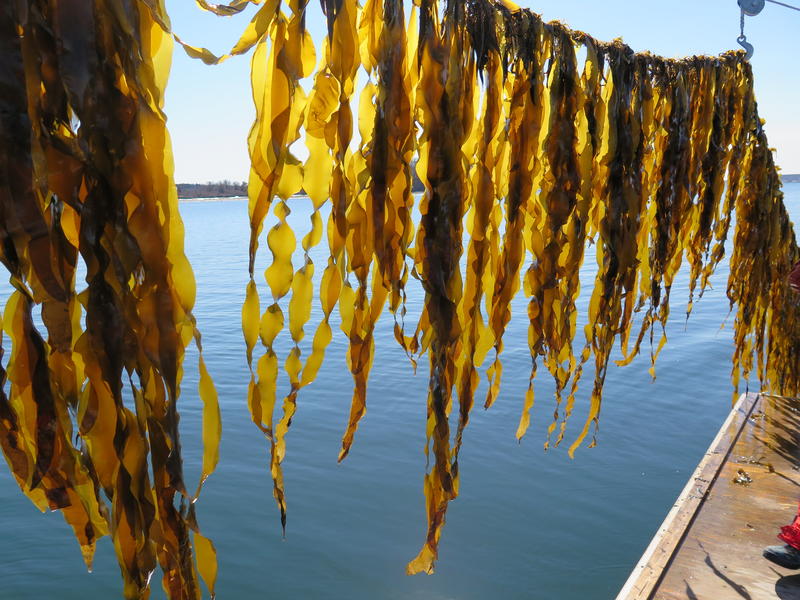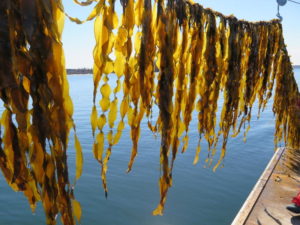 Maine Won't Wait called for the exploration of innovative solutions to support targeted reductions of coastal acidification as well as carbon sequestration, particularly through seaweed aquaculture. The Island Institute continues to partner with Bigelow Laboratory for Ocean Sciences, Bangs Island Mussels, and Atlantic Sea Farms to do just that. Project partners are currently working on publishing lessons learned on farmed kelp's ability to locally remediate acidification and improve growing conditions for nearby farmed mussels and sharing our methodologies and successes with partner farms in Norway and Alaska.
This same Maine team is now contributing Maine data to an international effort to determine carbon storage rates beneath seaweed farms. The Bangs Island Mussels' kelp farm off of Chebeague Island is one of 19 seaweed farms in 12 countries quantifying carbon burial in the sediments below seaweed farms as a step towards creating a carbon credit system, potentially creating added market incentives for seaweed aquaculture.
Equity
Building off our efforts to support the development of the groundbreaking Equity Framework in summer 2021, we're now supporting the development of equity outcomes and metrics for the Climate Action Plan through the Climate Council's Equity Subcommittee that was established in early 2021. Doing so will help to monitor progress on equity and ensure that programs and benefits reach diverse and isolated populations and communities.  
What's Next
The coast of Maine is already experiencing the effects of climate change, and the future of our coastal communities and economies depends on the actions we take now. Status quo is not an option. The Island Institute will continue to work strategically with our partners to ensure implementation of the Maine Climate Action Plan and do so in a way that strengthens communities.
As we navigate change along our coast, we strive to take an inclusive and collaborative approach, confronting issues in a way that builds a shared vision and a more resilient future.
---