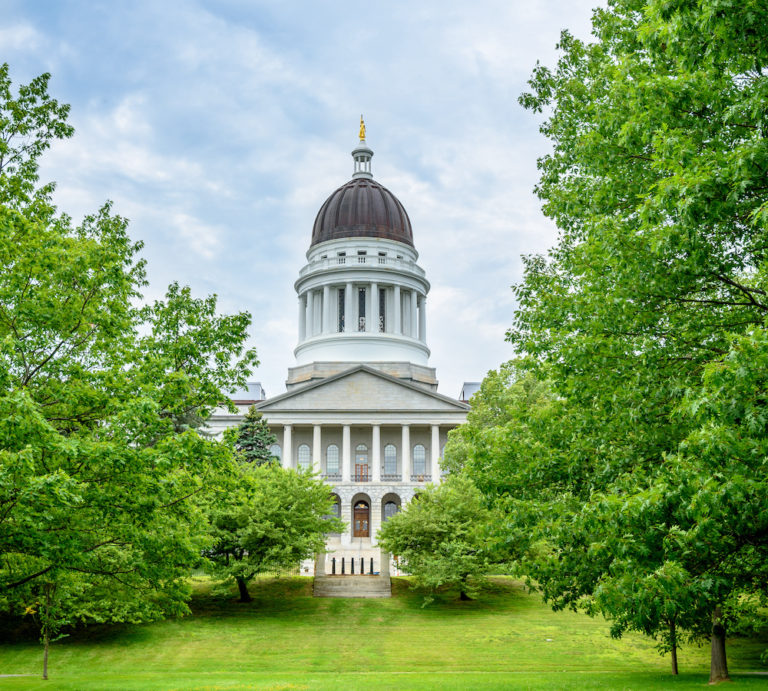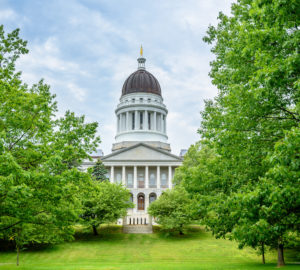 We work collaboratively with communities to tackle challenges and build resiliency. While this often means spending time in the places where we live and work, it also means focusing on what's happening further inland at the State House. Through our policy work, we support community leaders—virtually these days—by amplifying their voices on issues that impact the coast. When we show up in Augusta we often have a community partner with us—either physically next to us or metaphorically sitting on our shoulder. This helps us advocate for communities and influence decision-making that will make a real, tangible, difference for Mainers.
This has been a busy legislative session so far with multiple bills and issues affecting our coast. In our latest policy update, we highlight some of the key issues we're watching, what they mean for our communities, and the work that's been done so far. Read on for an update on the session to date and check out our new Policy page for more information. Many of the bills and issues discussed are subject to ongoing legislative debate.
Civic Engagement in a Socially Distanced Environment
In January, the Legislature was just starting to figure out how to conduct most of its business remotely. By May, remote legislative hearings and work sessions were commonplace. With committees meeting remotely, participation in public hearings and effective engagement strategies were different. Oral testimony was still powerful, but between the volume of bills being heard by some committees, the length of some of the virtual hearings, and the general challenges of being remote, written testimony seemed to take on an additional level of importance. The increase in written testimony helps make the legislative process more transparent. Without having to take a day and drive to Augusta, remote hearings were more accessible to community members too.
Aquaculture is Critical to the Future of our Coastal Communities
Multiple proposals before the Marine Resources Committee threatened to limit the opportunities for aquaculturists to start and grow their businesses. In response to these proposals, the aquaculture industry turned out in force—the diversity, age, connection to the fishing industry, and entrepreneurial spirit really showed through this session. I have been following and weighing in on aquaculture-related legislative proposals for a while now, and this year was different.  
In opposition to one of these bills, LD 1146, a former participant in the Island Institute's Aquaculture Business Development (ABD) program, Lauren Gray, who owns and operates Cranberry Oysters, a small-scale oyster business based on the Cranberry Islands, spoke passionately about how this proposed legislation would impact her business and other young Mainers in this growing industry.
"I am a small and growing business, formerly a Maine island teacher investing my personal savings into the growth of my oyster company… It was not easy to obtain a standard lease — but I felt through the process the DMR both prioritized the working waterfront, the environment, and my community's concerns at its heart. We cannot push out the small business start-ups like myself, one of only 70 remaining year-round residents of my island community, through additional hurdles to flexibility and growth." – Lauren Gray, Cranberry Oysters
Hannah Twombley, another former ABD participant and scallop farmer on North Haven, added these thoughts to the conversation. 
"We understand that the ocean is a shared space, we see it in action every day. As scallop farmers, we also depend heavily on commercial fishing. Over 50% of our household income comes from lobstering and it's importance in our coastal communities cannot be overstated. We are pro-aquaculture, pro-commercial fishing, and pro-tourism…

The climate is changing, and species are moving. We don't know what our fisheries will look like in 10 years, but our economy and our culture depend on a robust and diversified working waterfront. We need legislation that works to support our working waterfront." – Hannah Twombley, scallop farmer
Over 150 fishermen, aquaculturists, and business owners, provided testimony and personal stories about the role aquaculture currently plays in our coastal communities and the opportunities for the future. Their full comments can be found here. 
Improving Broadband Access Statewide
In terms of systemic risk to Maine's coastal communities, not having access to high-speed internet is one of the most significant near-term risks to the resiliency of these communities. We mention the need for improved broadband infrastructure in almost all our written testimony pieces, because it directly impacts almost everything else we do as an organization. 
This has been a big Spring for broadband. From ConnectMaine's new grant program supported by Tilson Technologies and VetroFIBER and the proposed Maine Connectivity Authority, to the proposed redefining of broadband service and the approval of more than $120,000,000 in funding to support broadband work in Maine from the American Rescue Plan, policymakers are starting to understand how foundational high-speed, reliable internet is to the future of our state. For more specifics, our statewide partner on broadband, the Maine Broadband Coalition, recently provided this update on broadband policy.
Maine Won't Wait – Climate Action Plan
This has also been a big Spring for climate adaptation and mitigation work. Institutionally speaking, my colleague, Suzanne MacDonald, was re-appointed to the Efficiency Maine Trust board and is now the chair of this vital body. She also joined the Maine Climate Council's equity subcommittee.  
 Of the many legislative proposals related to supporting clean energy and adapting to climate change, here are four that we have had our eye on: 
LD 528

– A bill focused on advancing energy storage. The ideas in the bill will make it easier for communities to conduct pilot projects that involve energy storage. Our work with Eastport and

ORPC

is supported by the U.S. Department of Energy and National Renewable Energy Labs through the

Energy Transitions Initiative Partnership Project

. An overview of national awards can be found

here

and background on our work

here

. The Eastport project is the kind of nationally relevant project Maine should be supporting.  
LD 1682

– A bill that proposes to have the Public Utilities Commission (PUC) consider the impacts of their decisions on Greenhouse Gas emissions. This bill also helped highlight the need to have an essential conversation about environmental justice and how clean energy projects can have outsized impacts on vulnerable populations.  

LD 1572

– This bill smooths the way for State agencies to review and update their rules and regulations to better incorporate the recommendation about sea level rise from the Climate Council's Scientific and Technical Subcommittee.  
Looking out 30 to 50 years, sea level rise poses a substantial risk to our coast. With sea level rise projections of 1.5 feet by 2050, we can expect coastal infrastructure to get wet with increasing regularity. Our new film, A Climate of Change: Sea Level Rise, showcases the work happening on Vinalhaven to address sea level rise and the ways that other island and coastal communities can take action to plan for the future.
Concerns Regarding Remote Communities
The ability for communities to hold public meetings remotely has been a surprisingly vexing policy challenge. The State's open meeting laws aren't clear on the issue. The closest opinion from the Attorney General's office is about the inappropriateness of using a private conference call to substitute for making decisions in a public meeting. This session saw several bills proposing various solutions to this challenge, and legislators are still grappling with the right framework for allowing remote participation in public meetings.  
The Legislature also considered a proposal to allow remote notarization of documents – LD 1399. The policy debate around this idea was interesting and included testimony from national experts on the practice of remote notarization.  
We know that only 11 percent of Maine communities have a town planner on staff, and 72 percent have no local planner as well as insufficient or no regional planning support. Rural communities face significant capacity challenges to building community and economic resilience. Multiple legislative initiatives, from establishing the Maine Service Fellows, LD 1010, and building a Maine Climate Corps, LD 722, to a proposal by the Governor to use federal American Recovery Plan funds to add capacity to local communities, highlighted the growing understanding of the support that is very helpful when community leaders are tackling significant projects.  
In a challenging moment for island communities, the Transportation Committee directed the Maine Department of Transportation (DOT) to review the funding structures for the Maine State Ferry Service (MSFS). Currently, MSFS riders pay for 50 percent of the operating costs of the ferry service. Proposed fare increases in 2018 highlighted the important connection between affordable ferry service and the ability for people to live and work in island communities. At the same time, it is not clear that this revenue can cover half of the fuel, maintenance, and staffing costs in the future. Fare increases or service cuts are both likely to force people to reassess how often they ride the ferry. With multiple new vessels being planned that lock in a structure for fuel and staffing costs, the scope of this review and input from impacted communities is absolutely critical. 
Maine DOT has been clear that somebody from the MSFS Advisory Board would be included, and the review wouldn't start until after the legislative session. Maine DOT will need to report back to the Transportation Committee in early 2022 on this topic. This is another structural issue that we will be keeping a close eye on. 
Maine's Working Waterfronts
Maine's working waterfront infrastructure and businesses are essential to ensuring access to critical blue economy resources and the long-term resiliency of our state. The Land for Maine's Future (LMF) program provides essential funding for the Working Waterfront Access Protection Program that can help secure long-term access to working waterfronts.

We are very supportive of a bond for the Land for Maine's Future program – testimony on LD 983 highlighted the cross-sectoral importance of this program. Bond bills require a two-thirds majority in both the House and Senate, which typically means they need to be bipartisan and often subject to end session negotiations. Typically, the Land For Maine's Future program receives bipartisan support and is a critical program for preserving important places for future generations. 
We look forward to supporting Maine's working waterfronts through the LMF bond and will keep you updated as the session wraps up.
We'll Keep You Updated
As the Maine legislative session wraps up at the end of the month, we will keep you up to date on our state-level policy-related activities. We look forward to continuing to work alongside our partners to advocate for island and coastal communities and influence decision-making that will make a real, tangible, difference for Mainers. Please don't hesitate to reach out if you have questions or would like to be involved in this work.
---
Nick Battista is the senior policy officer at the Island Institute.