Part of our ongoing series of Archipelago artist profiles, this profile looks at one of Archipelago's artists, Basil Cake, who has been featured in the store and gallery since it opened. In early March, before Governor Mills issued a statewide lockdown, the Island Institute's Lisa Millette traveled to the home of Maine artist Basil Cake and his wife Mia, to learn more about his work, life, and inspiration. She spent the afternoon visiting with the Cakes, studying Basil's intricate lamps and unique, found-object sculptures.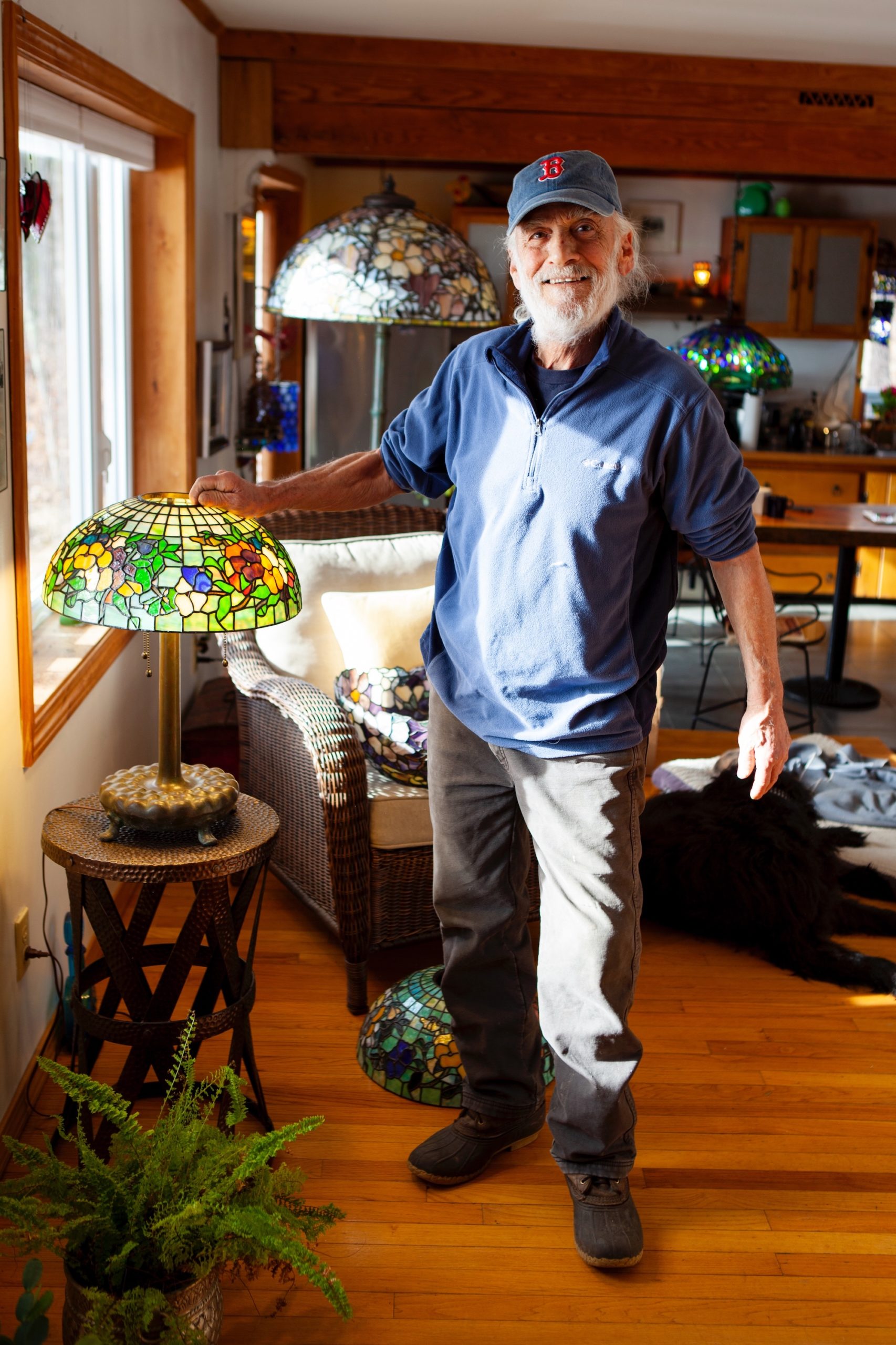 Think of the city of Augusta. Now think of the opposite. That is where Basil and Mia Cake live and do their art – down a dirt road beside a quiet pond, yet still in Maine's capital. Basil met me at the top of the dirt road. We'd had a mild winter, and the route to their home was covered in a mix of ice and mud. He was concerned about my car getting too muddy, but I assured him that my car didn't mind getting a little dirty. Basil, stopping about a half-mile down, proudly gestured to the snowy area to the right of the road. "There are over 100 garlic planted there. You can't see them now, but they're under there," he shouted back to me before climbing back into his car and continuing a short distance further to the next driveway.
Their home is surrounded by tall, straight pine sentinels standing quietly. A calico cat and large stone and metal sculptures lounged around the porch, while a dog barked protectively just behind the front door. We entered the home and settled down at the kitchen table. Basil's art is everywhere. The kitchen table is inlaid with geometric patterns and shapes of his own making. A Tiffany-style dragonfly lamp hangs above – Basil's handiwork of course.
The house itself is a work of art and love. Basil has owned the property for much of his adult life, having purchased it after being drafted into the Vietnam War, a conflict he disagreed with. He built a small cabin here in the peace of the Maine woods before traveling throughout the U.S., South America, and India. Upon his return, he married his wife Mia at the cabin, and then spent eight years hand digging the foundation of the house in which they currently live. Most of the house used to show the tongue and groove pine of the walls and ceilings. Mia's Dutch heritage and sensibility, however, led to some white walls and stone floor tiles. Out in the open and nestled into nooks and crannies, the house is filled with Basil's and Mia's art, which brings color and cheer to the cloudy day. There are at least six of Basil's glass lamps in the kitchen, another four in the living area, five or so in the study, and a few more in the enclosed porch. Smaller works—wind chimes, sun catchers, and stone "creatures" (similar to those sold in Archipelago)—hang in front of the windows, peer down from ledges, or sit patiently on shelves and windowsills. There are some familiar faces from the store: the stone moose and birds as well as repurposed silver utensils manipulated into an upright bass, a guitar player, and a drummer like Basil himself.
Basil, Mia, and I spent over an hour looking at just a portion of the pieces Basil has made. He is constantly making and creating, often crafting two to three of something before getting a prototype that he is happy with. I respected Basil's wishes to not visit his workshop in the basement as he was unable to tidy it to his satisfaction. We did, however, peek in from the outside, and I personally found the studio perfect for an artist manipulating stones and repurposed utensils as he experiments and creates.
The love of stone has always been with Basil. When he first dreamed up the stone creatures, they resembled a more amorphic animal, thus his loving reference to them as "creatures. Now, Basil's creatures, which include turtles, crabs, birds, moose, golfers, and musicians, are his bread and butter. Basil works with different shaped stones until the "right" animal comes out, discarding stones along the way that don't work for the piece. These smaller pieces travel easily to storefronts and are sold at a price point that makes them popular keepsakes for Maine visitors or thoughtful gifts for a loved one. The creatures, along with Basil's whimsical wind chimes, were once sold at more than ten Maine stores as well as the Common Ground Fair. In more recent years, he's cut back to showing his work in only two stores, one being Archipelago where Basil's pieces have been sold since its opening in 2000. However, this doesn't mean that he has slowed down or is doing any less creating!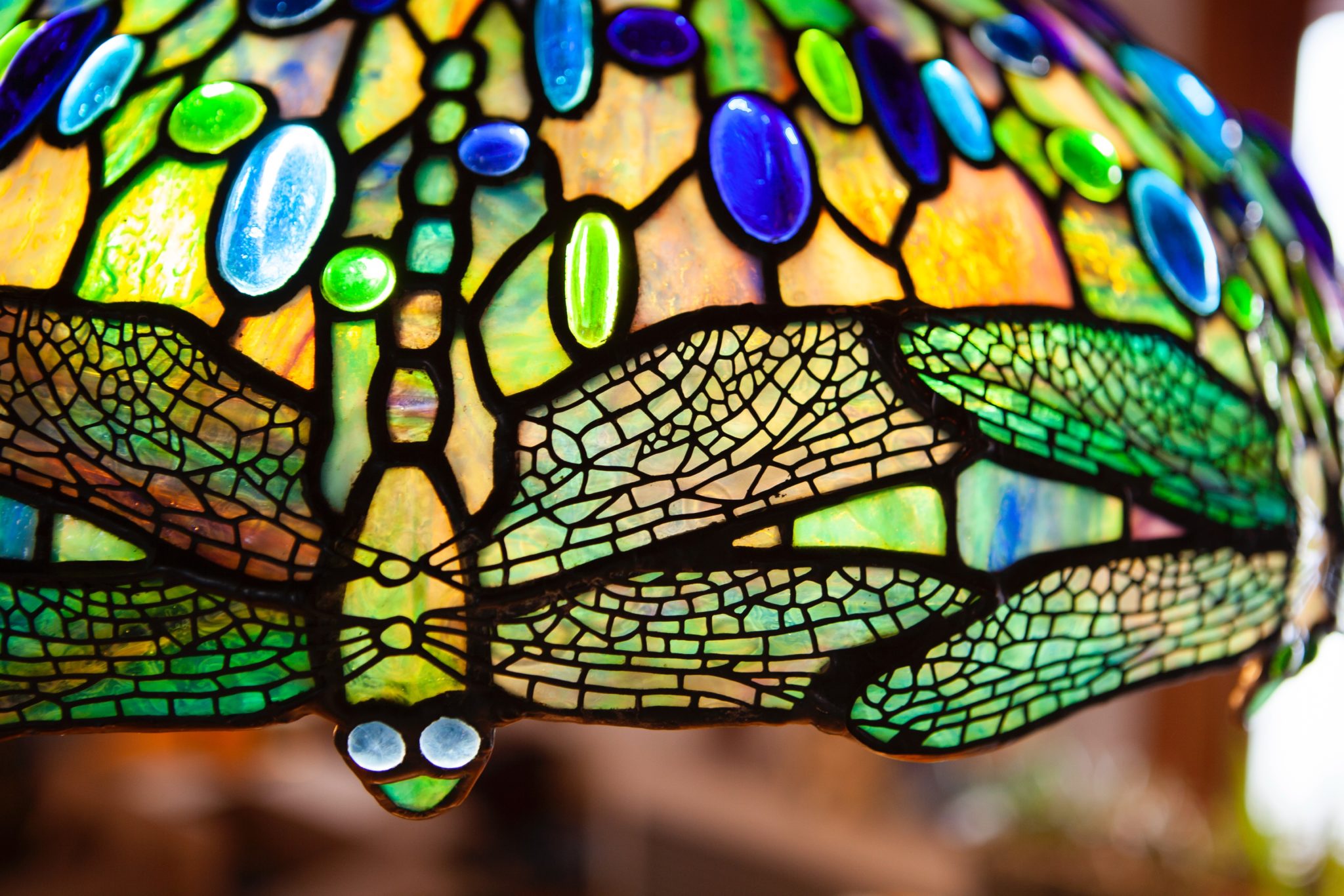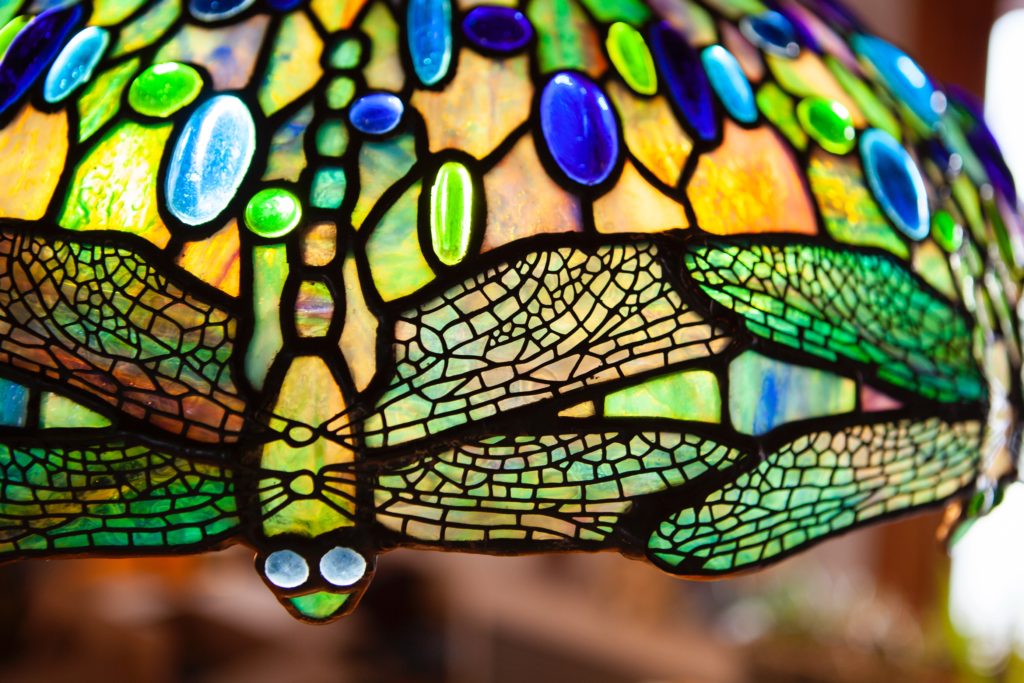 Basil's stone creatures and wind chimes are made from found objects which call to Basil and Mia—stones, silverware, discarded glass pieces ranging from ones that fit in your hand to child-sized sculptures such as in front of the house. In an unfortunate accident, Basil experienced the loss of his lower leg when a shard from an oxygen tank, a remnant from his years working in health care, blew back at him as he attempted to cut it for a piece. Yet that didn't stop him from creating. The blown-out tank remains out behind the house, a reminder perhaps of what should be left alone.
Basil lights up talking about his lamps, which are truly breathtaking. The first stained glass lamp he ever made is a beautiful trailing wisteria in purples and blues on a brass trunk base. It took him approximately three months, laboring 10 hours at a time. It is almost unfathomable to look at the beauty and detail of this piece and realize that it was the first one he ever created as a self-taught artist.
Inspired by the lake next to their home and a love of plants, most of the lamps include flowers: wisteria, nasturtium, pansies, and magnolia blossoms. When fashioning the lamps, Basil's work is methodical and follows a pattern. In addition to the floral-inspired lamps, he also creates others that are more abstract in design, made from the refuse of a long-ago glass factory in Sandwich, Massachusetts. In creating these more abstract pieces, as well as his stone creatures, Basil looks to the object he is working with to help guide him in creating the piece it will become. He shared that it takes patience and tinkering with a piece of glass or stone in order for the shape of the final piece to form in his mind.
At the end of my visit, Basil and Mia gifted me one of their wind chimes, which now hangs in my bedroom window and serves as an object of meditation during these uncertain times. Especially today, when much of our connection to the world relies on technology, the Cakes and their creations remind us that we don't have to look further than beneath our feet—to stones and rocks, to our gardens, to trees and animals—for connection. For creativity. For peace.
---
About Archipelago
Archipelago, the Island Institute's store and gallery, showcases Maine artists and makers whose work reflects the beauty and endurance of Maine's islands and coast. A key element of the Institute's small business program, Archipelago has provided over $2.5 million in income to artists and makers and advanced the careers of more than 1,500 Maine residents since opening in 2000. In addition, Archipelago staff spend over 400 hours a year mentoring artists to help increase their skills and knowledge for running arts-based small businesses. Learn more here.