Since March, Maine's island communities have faced a variety of logistical and other unique challenges in responding to the COVID-19 pandemic. But thanks to a new state effort to distribute rapid tests to communities around Maine where there are challenges to accessing immediate point-of-care, tests are now available in many island communities. As of November 11th, 1,280 tests have already been delivered to six islands, with more communities to receive tests in the coming days.
These rapid tests come from the state's allotment of 400,000 new Abbott Labs BinaxNOW COVID-19 Antigen (Ag) Cards for rapid point-of-care testing from the federal government. According to Maine's Department of Health and Human Services (DHHS), tests from Abbott, which has a Maine presence, are being received at a rate of about 26,000 a week. Ultimately, 300,000 of these tests will be distributed through a new program that will operate at 65 Walgreens drive-throughs across the state.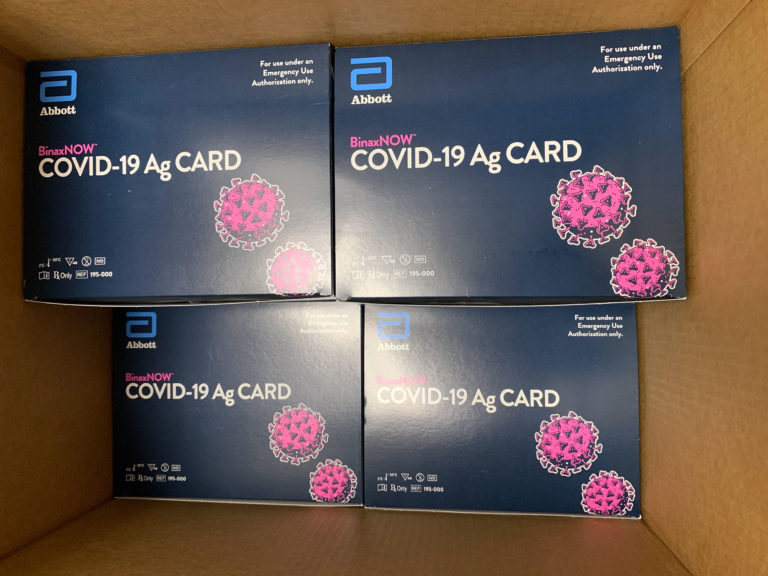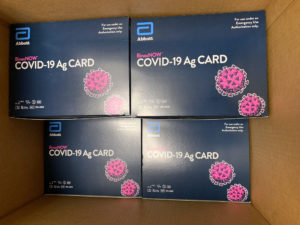 The remaining 100,000 tests have been prioritized for "facilities that will use them for high-risk populations, in high-risk settings, or where access to COVID-19 testing is otherwise limited." As the most rural state in the nation, Maine's test distribution efforts have been shaped by a commitment to geographically diverse testing opportunities, reflecting the realities that many Mainers face when trying to access testing. When it comes to Maine's year-round island communities, testing and transportation related to COVID-19 have proven particularly challenging. However, thanks to the state's proactive approach, island communities that have either island-based clinics or EMS capabilities to offer the tests and report results to the state can now apply to get the tests.
Some health care, assisted living, and nursing facilities will be getting tests directly from the federal government and not from the State. This allocation process aims to ensure both access for all people in Maine and a priority for those at greater risk of COVID-19.
According to federal approvals and the State's October 29th guidance, these tests are to be utilized for individuals who are suspected of COVID-19 based on the "acute presentation of symptoms consistent with COVID-19 and who are within the first seven days of the onset of symptoms."  In island communities, a quick test will help people with COVID-19 symptoms avoid a trip to the mainland or cause others in their community to be quarantined. The security of ferry service has been a concern since the beginning of the pandemic. These tests may prove particularly useful for kids and teachers, small workplaces, frontline workers, or community members with symptoms—helping to get quick on-island tests to avoid quarantine or a trip to the mainland.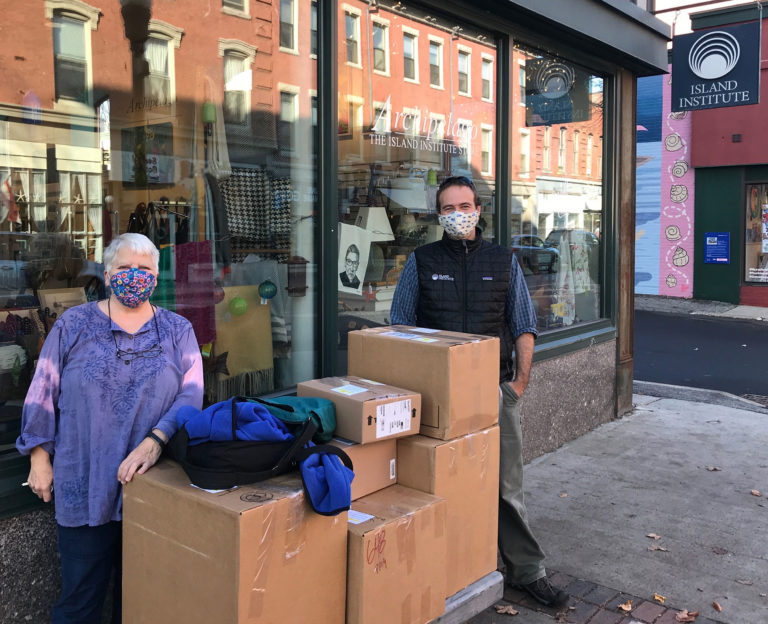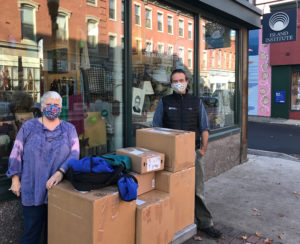 As anybody who has spent time on an island knows, logistics and transportation are regular concerns. These tests have a six-month shelf life and are somewhat temperature sensitive—leaving them on a ferry dock or in an unheated freight shed on a cold November day wouldn't be good for them. The tests are packaged by kits of 40, with the kits being pre-packaged in lots of 16 kits to each shipment. As part of our support for Maine's island communities, the Island Institute responded to the State's request for help by receiving two shipments of these test kits (32 kits in total) and breaking these down to fill individual community orders. From there, Institute staff worked with community partners, the Maine State Ferry Service, Penobscot Island Air, Beal and Bunker, and The Island Market and Supply, to make sure that each community received their tests as quickly as possible.
So far, the Cranberries, Frenchboro, Swan's Island, Islesboro, North Haven, and Vinalhaven have received test kits and Long Island should be getting a shipment soon. Chebeague and Monhegan are working their way through the necessary paperwork.  
Rob Snyder, president of the Island Institute, offered his thanks to the State of Maine and to all of those involved in making sure the test kits arrived in island communities:
"We applaud the leaders within island communities who quickly stepped up to move through a new process and learn new testing protocols. Thank you to the community members who care about each other and to our state leadership who included the year-round islands in their planning."
---
Additional Background
According to the Maine Department of Health and Human Services (DHHS), they are distributing tests to "clinical and community sites that are prioritized for receipt of these tests, have (or get) a Clinical Laboratory Improvement Amendment (CLIA) Certificate of Waiver, and meet the other defined requirements as outlined in the Maine DHHS Guidance document for use of BinaxNOW Ag tests, and the Maine DHHS online application that "end user" organizations must use to order tests."
For questions about test availability and processes, please contact the appropriate medical center or EMS contact in your community.