2020 MAP Induction & Graduation takes place online but still offers opportunity to connect and celebrate
On May 26, 2020, the Island Institute formally welcomed the fourth cohort of the Mentoring, Access, and Persistence (MAP) Program and celebrated the achievements and next steps of the MAP20 graduates. This annual event, usually held in person on a college campus as a kick-off to the MAP Summer Leadership Intensive, took place virtually on Zoom.
Sixteen students from six Maine islands in the Penobscot and Casco Bays joined the call. Each had received a package in the mail to open during the event in a breakout session with their cohort, adding a tangible and connective element. Packages included a MAP T-shirt, certificate, award letter, and resources for the student's next steps.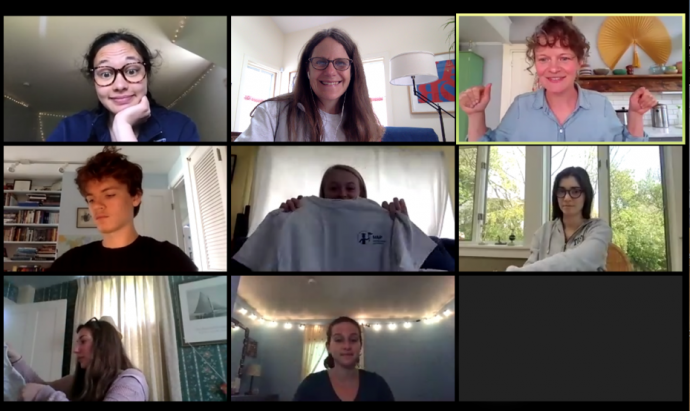 Getting to know one another and learn more about islands in other bays was first on the agenda at the virtual gathering. In addition to basic introductions, we asked everyone to share one of the best things they've done "in quarantine" since March 2020. Several students noted that they had been spending more time outside, exploring the hiking trails on their islands and swimming in the ocean (even in May!). Three students had done a lot of baking, testing new recipes, or learning to cook—an important skill in preparing to leave home. One student dove back into her hobby of painting, and three others focused their extra time on caring for canine friends and new puppies. While we know that young people have been hit hard by the social isolation, loss of team sports, and disrupted learning over the past months, it was encouraging to hear how each had seized on silver linings and new opportunities.
A key part of MAP is the peer-to-peer learning, and the May 26th event provided the chance for graduating seniors to share with juniors what they wish they had known a year ago. Patrick Kehoe, a recent graduate of Islesboro Central School, warned of the pitfalls of procrastination in the college application process. To his younger peers, Patrick recommended, "really trying to stay on top of everything you have, making an honest effort, getting things done on time, all of that—and ultimately you'll have a lot more fun as a senior." His classmate Rylee Sienkiewicz echoed this advice, admitting that there are many times in life when you can put things off and still manage to meet deadlines, but not in senior year. "Make time," Rylee emphasized.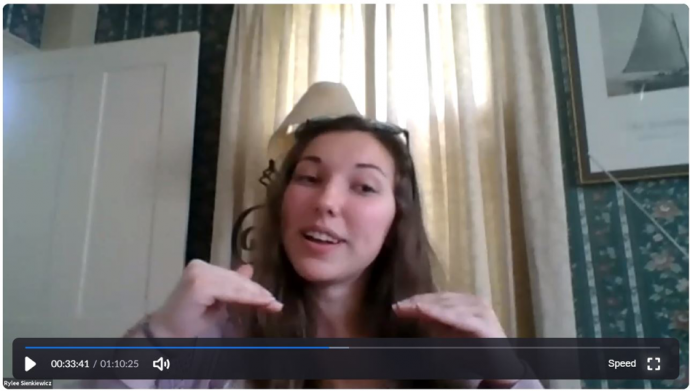 Emma Conrad from Peaks specifically recommended writing the college application essay in the summer before senior year, "because when you're applying to college you have so many things to do at once. I feel like your essay should be really good when you're applying, so it helps to be able to focus on that 100% and not have to worry about other things."
Graduating seniors also shared thoughts on how to choose colleges, considering important factors such as career interests and financial aid. As always, we were impressed and grateful for these students' willingness to step up as leaders, even as the Class of 2020 faces great uncertainty in pursuing their aspirations this coming year. All nine MAP20 scholars were accepted to multiple colleges. One will enter the Maine workforce and the others, supported in part by Island Institute scholarships, will scatter throughout Maine and the eastern seaboard for fall semester, however that may look. In the meantime, they will spend their summers working on island, hauling traps, or even running their own small businesses.
As for the incoming MAP21 cohort, we were excited to hear from each student about what they hoped to gain from the program over the next year. Getting some help on college application essays was high on the list, but students also noted their eagerness to connect with peers from other islands—something that doesn't happen naturally, especially between regional bays. In sharing her reason for signing up for MAP, Ella Anderson from Long Island illustrated perfectly how each cohort over the past few years has helped shape the program and pave the way for future participants: "I joined because some of my friends on my island have participated in the past and said it was really helpful, and they met other students from the islands. I'm hoping to gain some college advice and build connections between the islands."
Even though our annual event may have looked different this year, it still provided a great opportunity for the students to connect, celebrate their achievements, share advice, and learn from each other. We are excited to see where the Class of 2020 goes from here, and look forward to working with our new cohort in the coming year. As they rise above the challenges of these uncertain times, we know that all of these students will come out stronger and more resilient on the other side.