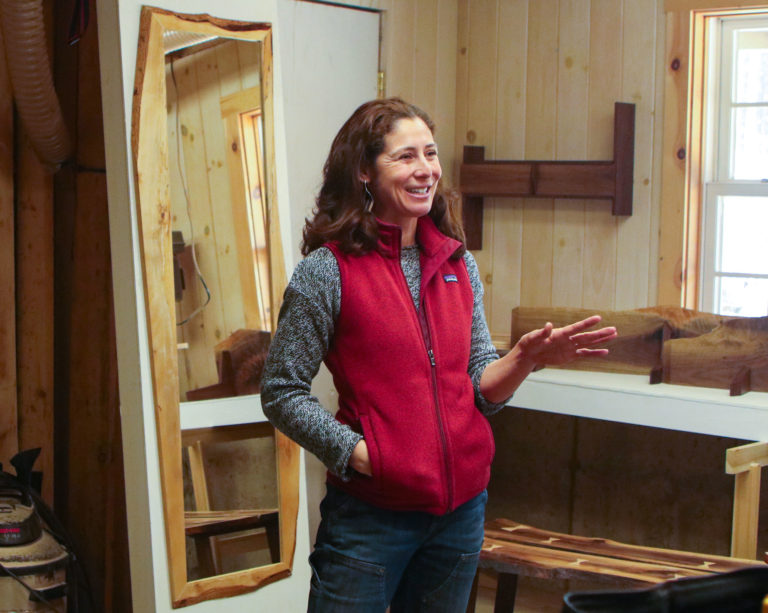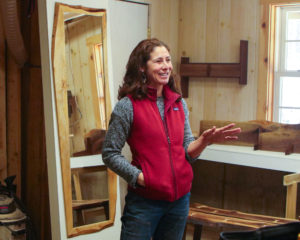 Overall, I've found midcoast Maine's custom wood workers: furniture makers, wood turners, spoon and oyster platter carvers, etc., to be quite singular people. For me however, Christina Vincent stood out even before I met her in person. As the proud daughter of a projects man, from concrete footings to framework to cabinetry, I came-of-age around the rebuilding of the house my sister and I grew up in. As a 6-year-old, I proudly denied dance lessons to help my father build a shed, and as a high school student I spent a Christmas morning cutting and banging metal flashing in an unheated basement. Thus, coming across Christina's work, it was like stumbling upon my staunch childhood persona come to adulthood. I'd never recognized that sentiment in myself before; however, seeing Christina's beautifully designed and executed pieces, the expert woodwork of a woman, made me want to do a little touchdown dance.
Raised in Auburn, Christina came to North Haven through her boyfriend, now husband, who came there through his brother who came there through an islander. Previously, she had been doing interior design work with Susan Sargent Designs in Vermont and, unsure of what to do on the island, became a fisherman before finding carpentry work. After a couple of years, she and her husband decided to buy land and build a house of their own. While building their home, Christina began to create small pieces of furniture out of salvageable wood. She describes this period as "building furniture as a carpenter would think, not as a woodworker would think." She became interested in taking classes at the Center for Furniture Craftsmanship in Rockport. Stopping by one Saturday, she met the founder, Peter Korn, who happened to be the only person in the office. He took her around the center, introducing her to instructors and students. Christina admits to being intimidated watching beautiful pieces come together at the center but, nonetheless, decided to sign up for a course. She had set upon the path from carpenter to woodworker.
Around the same time, Christina started landscaping with an island company. Today she runs her own landscaping company, thus shaping her current island rhythm. From mid-April to early November, Christina and her crew tend to yards and gardens across the island, and during the winter months this work is balanced with the creation of her wood pieces.
Like many shop spaces, Christina's small woodworking shop has evolved slowly over time and will continue to morph as she has the time and resources to add efficiencies. Along with the space, Christina's approach to her work has changed. In the past, Christina would have the finished piece formed in her mind and start to work: drawing, cutting, hand planing, and chiseling. As pieces oftenn fit together differently than imagined, she would then adjust the design. Today, with the addition of a design table, she is able to draw out a pattern, much like in sewing, and fit the pieces together with paper before making any initial cuts. The results are stunning. Some pieces have sleek lines or patterns such as her Acadia bench and Equinox tables. Other side tables, mirrors, or shelves leave the live edge of a piece for a more rustic feel. Regardless of the style, each piece is a work of art, singing the harmony of design and function.
Working on an island (especially when wood is your medium) can come with its challenges, but Christina doesn't seem troubled by this as it's all a part of the rhythm built into island life. She takes time to select kiln dried wood from the mainland which gets brought into her shop—one half being stacked in a designated section of the space, the other half serving as her work bench, and enough floor space left in between for assemblage and storage. Luckily, with most pieces being custom built, she doesn't need much storage space since the piece(s) will go out the door soon after completion. Between the custom jobs, she also squeezes in her own furniture creations: tables, shelves, benches, and more, bringing elements of the ragged coastline and natural beauty of Maine coast and islands into her work. Sooner or later, the right customer is drawn to one of these pieces—at a show, in a gallery, or on her website—often compelled to ownership through their connection to North Haven.
Last year, Christina returned to the Center for Furniture Craftsmanship to take a three-month intensive to learn new techniques, fine-tune skills, and be inspired by working along other students. She is still creating and experiments with new items such as mirrors and accent wall pieces, as well as smaller wood-made items that a visitor can take with them as a keepsake from the island. And of course, these pieces are impeccably designed. She has started making asymmetrical cutting boards—again finding the agreement between design and function—and there is a line of Christina Vincent earrings released earlier this year. These smaller pieces—the cutting boards and earrings—also allow for less waste as she can utilize scrap wood from larger furniture pieces.
It was an honor to visit Christina in her shop on North Haven, and I'll admit that we drooled over her pieces. Reflective of island hospitality, she also gave us a tour of some of North Haven's choicest views. So next time you're in midcoast Maine, I highly suggest a ferry ride to North Haven. Maybe you'll be lucky enough to see some Christina Vincent pieces at the mercantile. If not, you can walk across the street and enjoy your coffee seated at the mod picnic table she built in front of Calderwood Hall. And if a ferry ride is not in your schedule, know that we always have a piece or two of Christina's—as well as her fabulous earrings—in Archipelago.