Thriving Communities, Thriving Coast
A $25 MILLION CAMPAIGN TO INVEST IN MAINE'S ISLAND & COASTAL COMMUNITIES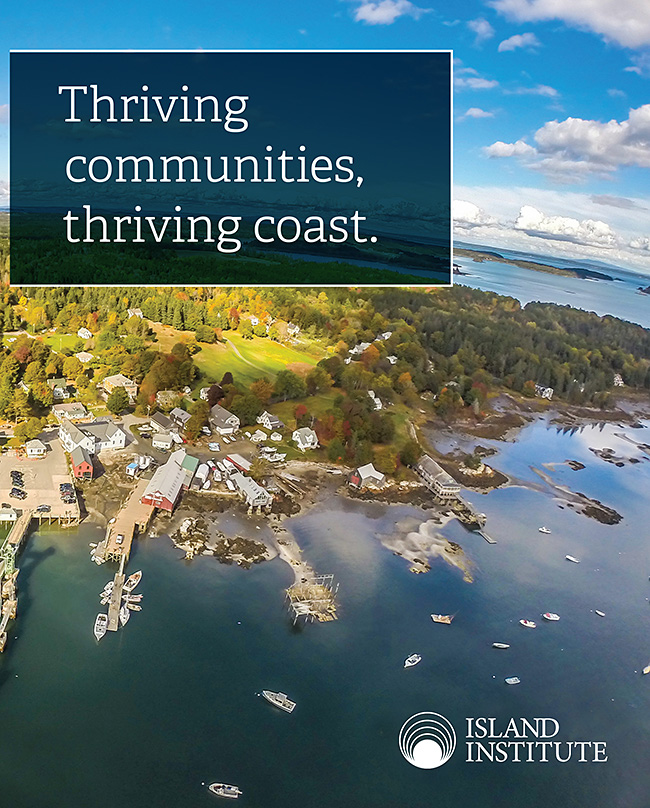 Several factors are converging to challenge our vulnerable coastal environment and local economy. In the last 20 years, fisheries diversity has declined by 70%. Warming waters are driving Maine's lobster, the single species we now depend on, to deeper, colder waters. Ocean acidification threatens shellfish productivity. Sea level rise is expected to compromise wharfs, roads and other critical infrastructure.
Maine is vulnerable in other ways, too. We have the oldest population in the U.S., dependent on a shrinking workforce for essential care and services. We pay some of the highest energy costs and have more limited access to broadband than anywhere else in the country. Taken together, these challenges threaten to upend our way of life within a single generation.
---

DOWNLOAD AS PDF
But there is good news…
Our coast has never had greater potential to overcome the challenges before it. New opportunities, through improved broadband, aquaculture and education, have the potential to strengthen our coastal economies and build resilient communities. Mainers are known for their hard work and determination. At the Island Institute, we are rolling up our sleeves.
For 37 years, the Island Institute has served Maine's island and coastal communities. Through decades of experience, our organization is uniquely qualified to work in partnership with communities from Kittery to Eastport. We have built trusted relationships and the expertise to navigate complex dynamics to solve problems. We leverage and share lessons learned and our staff's expertise on issues at the heart of the challenges before us. We prioritize support for Maine's fifteen year-round, unbridged islands and coastal communities that share common challenges.
The Island Institute is committed to three priorities through 2025:
Strengthening Community Economies
Enhancing Education and Leadership
Delivering and Sharing Solutions
Your support of our $25 million campaign will propel our coast forward as we confront a changing world. Your gift will help expand and expedite our work to match the pace and magnitude of the changes ahead. The full resources of the Island Institute will be directed toward supporting local leaders and thriving communities to proactively address vulnerabilities and build resilience to the challenges ahead.
STRENGTHENING COMMUNITY ECONOMIES
Tom Glenn Community Impact Fund: community development catalyst fund that seeks to build a more diverse coastal economy through the investment of capital with grants, loans, and equity support for small businesses and community infrastructure projects
Reliable, High-Speed Broadband: thoughtful investment in Maine's island and rural, coastal communities so they understand their options, make informed decisions, and leverage state and federal funding
Diversifying Marine Livelihoods: work with fishermen to navigate the challenges to the lobster industry while developing promising new, marine-based industries such as kelp and shellfish aquaculture
Reducing Energy Costs: develop safe, reliable, and sustainable energy systems along the coast that stabilize household and business costs at or below the national average
ENHANCING EDUCATION AND LEADERSHIP
Maine Island Scholarships: support for island students who are pursuing post-secondary education and have demonstrated financial need
Mentoring, Access, and Persistance (MAP) Program: transition and scholarship support to students as they navigate steps after high school
Compass Workforce Grants: financial support for young adults from Maine's unbridged islands to help pay for workforce expenses associated with pursuing a certificate or credential that leads to high-value employment
Effective Local Leadership: intensive, sector-specific trainings and exchange trips designed to foster learning across communities and generations
DELIVERING & SHARING SOLUTIONS
Island Fellows: Since 1999, the Island Fellows Program has placed college and master's degree graduates in Maine's coastal and year-round island communities for one to two years. Fellowships provide a unique opportunity for recent graduates to apply their skills and gain experience helping to build sustainability within communities whose way of life and identity face many challenges.
What Works Library: digital resources to inspire and empower community leaders through quality information, hard data and shared solutions
Networks: amplifying local voices, exchanging ideas, and sharing solutions across sectors and geographies throughout the U.S., the Caribbean, and Europe
INVESTING IN THRIVING COMMUNITIES
Our comprehensive campaign includes every annual donation, membership gift, grant, gift-in-kind and pledge since July 1, 2016 from more than 4,000 donors.
Your gift to the Thriving Communities, Thriving Coast campaign will help us finish strong by December 2020, more importantly, continue our work with local leaders and communities to confront a changing world. A total investment of more than $25 million will sustain the things we care about deeply: our communities, our livelihoods, our way of life along the coast of Maine. Please join us in investing in thriving communities and a thriving Maine coast.
HOW TO GIVE
ONLINE:
giving.islandinstitute.org
CALL:
(207) 594-9209
EMAIL:
membership@islandinstitute.org
MAIL:
Island Institute
PO Box 648
Rockland, ME 04841
---
Tom Glenn Community Impact Fund
Funding to Diversify Maine's Island and Coastal Economies
Mission
The Tom Glenn Fund Community Impact Fund is a community development catalyst fund that seeks to build a more diverse coastal economy through the investment of capital with planning grants as well as loans and equity support for small businesses. The Fund is made possible through a grant from The Wilbur and Hilda Glenn Family Foundation; daughters Rand and Louisa; and wife, Lou, to honor Tom Glenn II and his lifelong commitment to Maine's island and coastal communities.
Impact
Since 2012, we have invested a total of $715,621 in Maine's island and coastal communities—with $523,985 in small business support deployed across 38 businesses and $191,636 in community infrastructure support deployed across 27 communities.
Who is Eligible
The Tom Glenn Community Impact Fund offers grant and loan support for Small Businesses and Community Infrastructure Planning. Business resilience grants and catalyst loans to support small business growth are available for all island and coastal small businesses, including artists and makers and marine small businesses. Grants and revolving loans for community infrastructure planning are available for broadband, energy, and sea level rise.
Help Maine's island and coastal communities thrive